The Supreme Pump is the ultimate in above-ground pool engineering. Designed for today's more demanding applications, the Supreme Pump is ideal for D.E., cartridge or sand filtration systems of all sizes.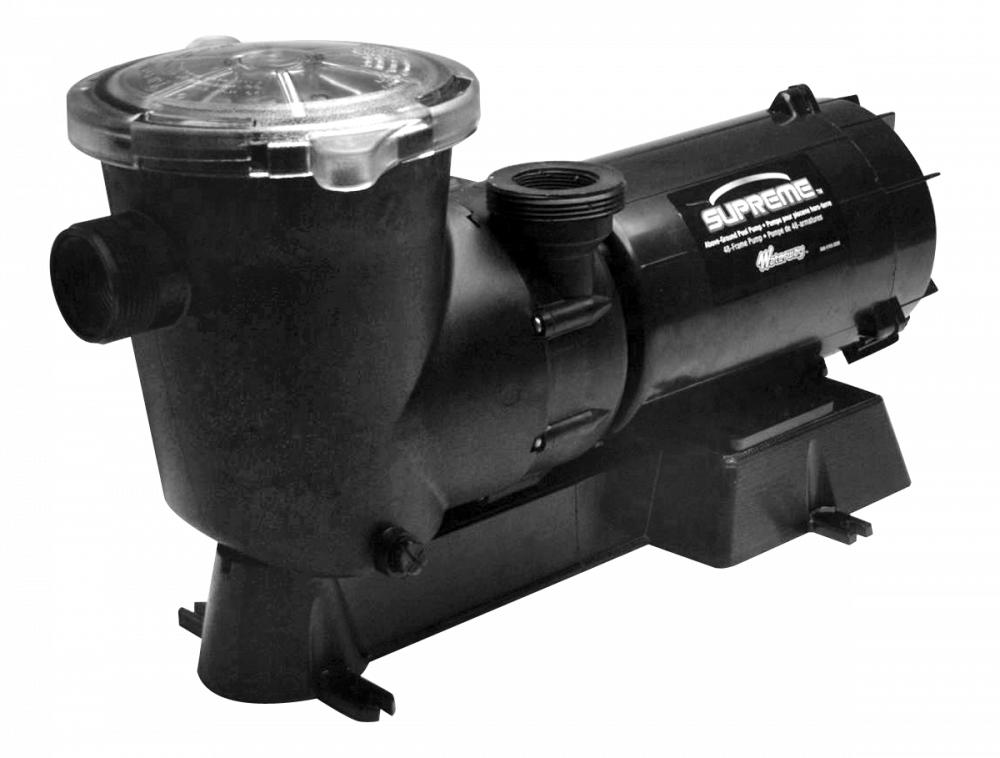 Features:
1 1/2" union threads / 1 1/2" FPT Intake and 2" union threads / 1 1/2" FPT discharge
Weatherproof motor housing
On / Off Toggle Switch
Extra large 7" pump trap with clear lid
25 ft. cord with 3-prong NEMA (regular) plug
Pumps and replacement motors that are single speed and one (1) total HP or greater cannot be sold, offered for sale, or installed in a residential pool for filtration use in California, Title 20 CCR sections 1601-1609.
CSA Supreme 48-Frame Above Ground Pool Pumps
| | | | | | | |
| --- | --- | --- | --- | --- | --- | --- |
| Part No. | Description | Volts | HP | Amps | Weight (lbs.) | List (US $) |
| PSPC1075-25 | 1-Speed - 25 ft. Cord | 115 | 3⁄4 | 10.3 | 31 | 913.16 |
| PSPC1100-25 | 1-Speed - 25 ft. Cord | 115 | 1.0 | 10.3 | 32 | 926.65 |
| PSPC1150-25 | 1-Speed - 25 ft. Cord | 115 | 1.5 | 11.6 | 37 | 979.81 |
| PSPC2075-25 | 2-Speed - 25 ft. Cord | 115 | 3⁄4 | 8.8 / 2.6 | — | 1,044.92 |
| PSPC2100-25 | 2-Speed - 25 ft. Cord | 115 | 1.0 | 8.8 / 2.6 | 33 | 1,058.42 |
| PSPC2150-25 | 2-Speed - 25 ft. Cord | 115 | 1.5 | 11.0 / 2.9 | 36 | 1,111.56 |