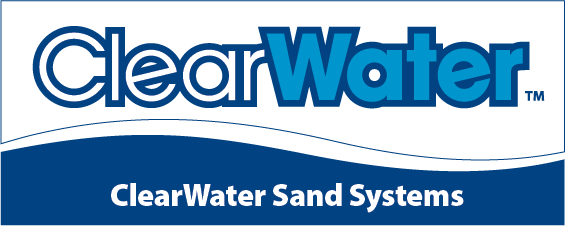 Complete the Sand filtration system with the high performance Waterway Hi-Flo II Pump and accessories. The Sand Filter and Pump Pack provides homeowners with everything they need to get their system up and running. It assures them of matched components and optimal performance with years of dependable service.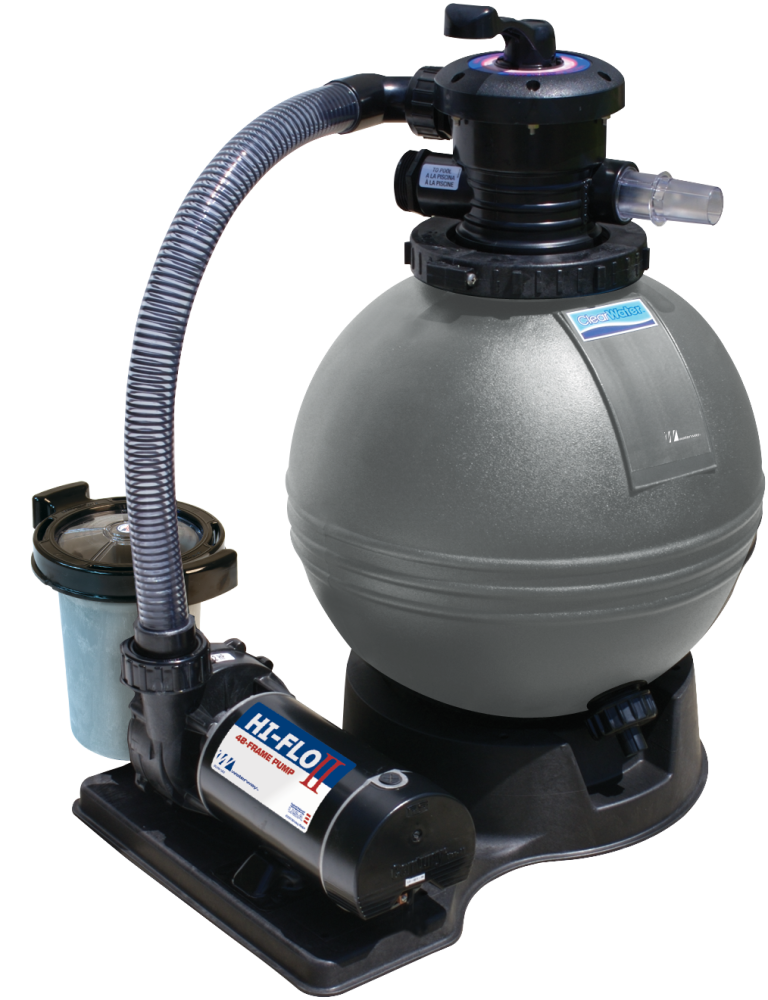 Features:
Large filtration sand filter with durable, high flow laterals
Hi-Flo II high performance single and dual speed pump
Large 6" pump trap with 2-piece lid
Union connection on multi-port for easy installation
Two 1 1/2" diameter hoses with clamps
Pumps and replacement motors that are single speed and one (1) total HP or greater cannot be sold, offered for sale, or installed in a residential pool for filtration use in California, Title 20 CCR sections 1601-1609.
ClearWater Sand Standard System with Hi-Flo II
| | | | | |
| --- | --- | --- | --- | --- |
| Part No. | Pump Description | Diameter | HP SPL | Cord |
| 520-5207-3S | Hi-Flo II, 1 Speed | 16" | 1.0 | 3 ft Twist Lock |
| 520-5207-6S | Hi-Flo II, 1 Speed | 16" | 1.0 | 3 ft NEMA |
| 520-5237-3S | Hi-Flo II, 1 Speed | 19" | 1.5 | 3 ft Twist Lock |
| 520-5237-6S | Hi-Flo II, 1 Speed | 19" | 1.5 | 3 ft NEMA |
| 520-5247-3S | Hi-Flo II, 1 Speed | 22" | 1.5 | 3 ft Twist Lock |
| 520-5247-6S | Hi-Flo II, 1 Speed | 22" | 1.5 | 3 ft NEMA |
| 522-5237-3S | Hi-Flo II, 2 Speed | 19" | 1.5 | 3 ft Twist Lock |
| 522-5237-6S | Hi-Flo II, 2 Speed | 19" | 1.5 | 3 ft NEMA |
| 522-5247-3S | Hi-Flo II, 2 Speed | 22" | 1.5 | 3 ft Twist Lock |
| 522-5247-6S | Hi-Flo II, 2 Speed | 22" | 1.5 | 3 ft NEMA |
Includes:
2 hoses (1 1/2" x 6 ft.)
Filter / Pump Hose with Union Adapters, hose fittings and hose clamps
3 ft. cord Twist-Lock plug (NEC/UL), or 3 ft. cord NEMA plug
Standard system base
Includes:
2 hoses (1 1/2" x 6 ft.)
Filter / Pump Hose with Union Adapters, hose fittings and hose clamps
3 ft. cord Twist-Lock plug (NEC/UL), or 3 ft. cord NEMA plug
Standard system base